Ariel



Name

Ariel

Age

16

Hair

Red

Eye

Blue

First Appearance
Ariel is a character that appears in the Kingdom Keepers book series. She is a mermaid and one of the Disney princesses.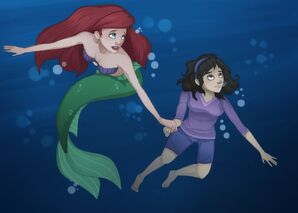 Her first appearance was in Disney At Dawn when she tried to help Willa, but failed to. However this may not count as that was probably an actress dressed as her.
She saves Willa when the Green Army Men attempt to drown her. She tells Willa she hardly sees Eric, as he is in the Magic Kingdom. She distracts people while Willa slips on ice, and at the end reveales Mickey was supposed to be the leader of the characters but he went missing. She also mentioned that the mermaids liked playing practical jokes on the ships.
She can turn from a mermaid to a merman and vice versa.