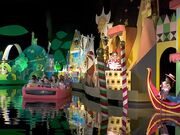 ---
It's A Small World is a boat ride at the Magic Kingdom. It apeared in Disney After Dark with the dolls as minor Overtakers. The ride is set to the song, "It's A Small World".
Role in Disney After Dark
Edit
The Keepers were originally on the ride to look for the sun clue in the Stonecutter's Quill. Boarding, the ride starts up by itself. The Lights weren't on, though. Willa was the first to notice a doll move.The dolls broke loose without the DHIs seeing. A chill arised. Suddenly, the dolls started to attack. The kids paddled as hard as they could. Then, the dolls bit them. Finn realized smiling would stop them. The clue was on the Mayan sun.
The scene from Disney After Dark was mentioned in Kingdom Keepers: Disney at Dawn.