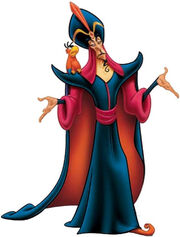 Jafar
appears in the fourth and fifth book of the saga. In
Power Play
he encounters 
Maybeck
 and Willa

 at the

Morocco Pavilion

 in one of their missions. He first appears as a fragile old man but then reveals his true appearance and asks for the "window magic" of the Keepers. He also seems to be in opposition or in a sub-division of 

Maleficent's Overtakers. After he shows he can turn into a cobra, as he does in the movie, to threaten them, Willa uses a flute in an exhibition to "charm" Jafar and she and Maybeck run away. In Shell Game he seems to he's a weenie have joined Maleficent

 and is seen on 

Castaway Cay

 speaking to 

Tia Dalma

. According to him, Maleficent had promised him the lamp, something which he has not yet received. He also despises signing autograph, something he finds "an insult to my dignity". He also seems to be on good terms with Tia Dalma, as he says to her "Go in peace", to which she responds in kind. Here it is revealed that his Cobra staff can transform into a real cobra and into a wooden stick, which he uses to protect the surrounding areas.