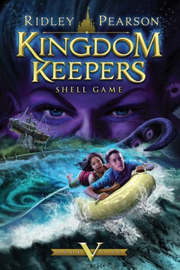 Kingdom Keepers: Shell Game is the fifth book in the Kingdom Keepers series by Ridley Pearson. The book was released on April 3, 2012. 
Sneak Peaks
Edit
Ridley stated on his Twitter to fan @Oblivion12345 that he had his fifth book with a tentative title, Shell Game, and a predicted release date of April 3rd 2012. This book will take place on the Disney Fantasy cruise ship. Ridley said in an interview that the DHI Software is going to be upgraded into 2.0, He also mentioned the Fantasia Brooms as Overtakers in his Facebook. Also he indirectly confirmed Hades and Ursula will appear as Overtakers in a tweet to @JoseMLuna.Edit
"As the Disney Dream joins the cruise fleet, a special treat is in store for guests aboard its inaugural sail from Cape Canaveral to Los Angeles: the Disney Host Interactive teenage guides will be part of the Dream crew. Finn, Maybeck, Charlene, Willa, and Philby are to attend the cruise as celebrity guests, and to perform a ribbon cutting for the DHI server to go live. The Dream is now the most advanced cruise ship in the world. But all is not right belowdecks. Strange things are happening. Unexplained phenomena. Only the Kingdom Keepers know the truth behind their invitation: nearly every Disney villain is represented on board the new ship: whether on its decks or in its theaters. It's believed the Overtakers have infiltrated the cast and are "stowaways." Worse: they have stolen an important journal that once belonged to Walt Disney himself--Finn has been having dreams about this--and that some kind of mission is planned. The ship sets sail filled with enthusiastic guests and crew, and the battle is on in new and exotic arenas: the beaches of Castaway Cay, the caves of Aruba, the locks of the Panama Canal, Costa Rica's rain forest zip line . . . But the end game is far more complicated and intense than anything the Kingdom Keepers had planned on. If the Overtakers get their way, a power will be unleashed that no one will have the ability to vanquish: Chernabog, dormant for years, is about to have his full powers restored. . ." Released by Amazon.